Glenn Smith of Houston; Diane Wagner of Fort Mill, SC; and Michael Neuendorff of San Francisco Recognized with Growth Coach Corporate Awards
Drop By Partner Link related to Pinnacle Sports –
Pinnacle Sports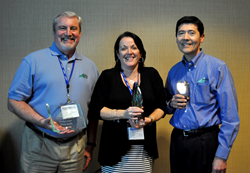 Cincinnati, OH (PRWEB) March 06, 2014
Being accountable is a huge part of The Growth Coachs business and sales coaching process. Taking responsibility for your business and your leadership is a vital step in making lasting improvements. On the other side of that coin, The Growth Coach also knows its important to recognize a job well done.
Thats why The Growth Coachs corporate team presented three company awards at The Growth Coachs annual conference in San Antonio on Feb. 17. Michael Neuendorff, owner of The Growth Coach of the San Francisco Bay Area, was named Coach of the Year; Glenn Smith, owner of The Growth Coach of Houston was recognized with this years Go-Giver Award; and Diane Wagner, owner of The Growth Coach of Fort Mill, SC, was given the No Parking Founders Award.
Michael, Glenn and Diane are examples of the best of our franchise family. They really show that if you have the guts to be an entrepreneur and join a system like ours, you follow the process and you take pride in changing lives, youll be successful. We give awards like these because we think its important to recognize those people who are really the epitome of what The Growth Coach is all about, Growth Coach President Nathan Owens said.
The Growth Coach, the #1 business and sales coaching franchise for 2013 according to Entrepreneur Magazine, is dedicated to helping small business owners, business leaders, management teams, sales people and self-employed professionals to be more successful while finding the necessary balance between business and life. While The Growth Coach is the worlds largest provider of affordable group coaching workshops, their coaches also provide one-to-one coaching, remote coaching delivered via phone and web, and special project.
—
Coach of the Year: Michael Neuendorff of San Francisco
Michael Neuendorff is celebrating five years as the owner of The Growth Coach of the San Francisco Bay Area and his growth is outstanding. He performance is continually in the top five percent for the entire company and yet he finds time to work the Sales Help Desk, serve on the Presidents Forum Advisory Board and mentor new owners.
When I started working with the Sales Help Desk and the Presidents Forum last year, it ushered in a year of being much more involved. Id established my business and those two opportunities gave me a chance to work much more closely with coaches throughout the system. Its been a great experience, he said. Honestly being more involved has given me a renewed sense of confidence and energy.
I was completely surprised by the award. Surprised and very touched. Im not someone who craves recognition, but it is invigorating to hear about the positive impact Ive made on the system and my fellow coaches. Ive worked hard and I definitely appreciate the award, he added.
Go-Giver Award: Glenn Smith of Houston
Glenn Smith, owner of The Growth Coach of Houston, serves Sugar Land, Katy, Missouri City and the surrounding West Houston communities. Smiths business has grown substantially in the eight years hes owned his Growth Coach franchise, but he was named this years Go-Giver because he still always finds time to help the franchise. In the last year, The Growth Coach has counted on Smith to help with training materials, mentoring of new coaches, webinars and more. He also serves on the companys Presidents Forum advisory board.
I certainly didnt expect to win any sort of award for the work that I do within the system When Im asked to do those sort of things like work with the new owners I just dont think any different. Of course Im willing to help. Helping people is just part of being a Growth Coach, but I am honored to have been recognized, Smith said.
No Parking Founders Award: Diane Wagner of Fort Mill, SC
The No Parking Award is The Growth Coachs Founders Award and its not given out every year. The award, a play on the No Parking sign Founder Dan Murphy gives to new owners to remind them to get moving, was given to Wagner because of her commitment to getting out into her community and building her business. Wagner opened her Growth Coach franchise in November of 2013 after more than 20 years in corporate American and a decade as the owner of an insurance business.
I was totally blindsided by the award. The No Parking sign from Dan actually means a lot to me. I have it sitting in my office to remind me to get out, meet people, spread the word about The Growth Coach and build my business, she said. Its easy to spend time just getting ready, but you have to get moving. I take that very personally.
The Growth Coach of Fort Mill serves Fort Mill, Rock Hill and Columbia in South Carolina.
—
The Growth Coach was recently included in the Bonds Top 100 Franchises and was recognized in Entrepreneur Magazines Franchise 500 as the #1 Business Coaching and Consulting Franchise for 2013 as well as in the magazines Best of the Best and Top Home-Based Business listings. The companys Strategic Mindset Process is so effective that it comes with a money-back guarantee.
To learn more about these three owners and to find The Growth Coach in your community, visit http://www.TheGrowthCoach.com.
ABOUT THE GROWTH COACH
The Growth Coach was founded in Cincinnati in 2002 and is the only pure business and sales coaching franchise aimed at driving success while balancing the lives of business owners, managers, sales people, self-employed professionals and executives across a wide spectrum of businesses and industries. The Growth Coach specializes in group workshops and individual coaching with the goal of helping clients gain greater focus and leverage to work less, earn more and enjoy more fulfilling lives. The Growth Coach is active in more than 140 markets in the United States and abroad and is always looking to expand domestically and internationally. For more information about the company or the process of opening a business coaching franchise, visit http://www.TheGrowthCoach.com.